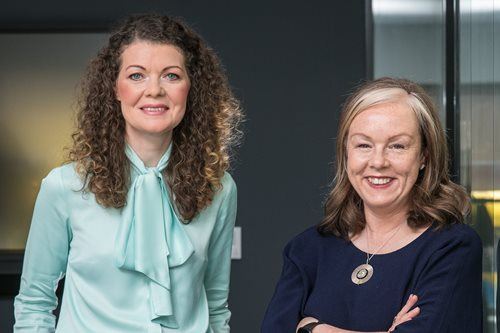 Dublin - 5th July 2022: International law firm Bird & Bird has opened in Ireland with a new Dublin office and an ambitious three-year growth plan, aiming to expand the team to at least 30 lawyers. The new office will offer distinctive and specialist legal services in Ireland focusing around Bird & Bird's core specialisms in privacy & data protection, technology, life sciences, intellectual property and corporate law.
Located in George's Dock, close to Dublin's tech hub Grand Canal Dock, Bird & Bird intends to have at least five partners in its Dublin office by the end of next year, alongside a team of associates and business services staff. The office is expected to grow quickly, consistent with the firm's overarching vision of supporting clients being changed by technology or the digital world and those leading that change.
The firm recently appointed leading Irish data protection, IP and technology specialists, Deirdre Kilroy and Anna Morgan, as the first two partners to join its new office in Dublin. The team will now grow the firm's strong offering in Ireland in the areas of data protection, intellectual property, and technology and communications.
Working closely with existing Bird & Bird partners around the network, this specialist set up will provide clients with a holistic offering – combining leading local Irish knowledge with the global expertise of the firm's international team.
Leo Varadkar TD, Tánaiste and Minister for Enterprise, Trade and Employment, comments: "I'm really pleased Bird & Bird has chosen Dublin for its new office. Ireland is a world leader in many sectors including life sciences, pharma, aviation, financial services and tech. I've no doubt that the team's expertise in data protection, intellectual property and technology and communications will be beneficial to many companies operating in these areas. Our country is also home to a highly experienced and expert legal sector. Bird & Bird's plans to expand over the next 3 years, hiring 30 new lawyers, will offer fantastic employment opportunities for our legal and business service professionals.
Deirdre Kilroy and Anna Morgan, co-founding partners of the Irish office at international law firm Bird & Bird, say: "We are thrilled to have joined as the founding partners of Bird & Bird's new office in Ireland. What truly sets Bird & Bird apart is its international collaborative working environment and its strong culture. We are a team of likeminded people who live and breathe the ethos of the firm and it's important to us that our Dublin office reflects this. We're really excited to grow our practice on the ground in Ireland - we have ambitious plans to offer distinctive and specialist legal services in the region.
Mary Buckley, Executive Director of IDA Ireland
, adds: "Bird & Bird's decision to locate this new office in Dublin is very welcome and is an excellent addition to the sector here. Ireland's presence in the EU as a common-law, English-speaking jurisdiction continues to attract investments from leading international specialist legal services firms."